Oct. 14, 2022
Science and technology are constantly improving over time. Computers, communications, industrial automation, electrical appliances and household appliances have been invented one after another. One of the important components of electronic products: capacitors are also developing.
The development prospect of the capacitor industry is good. Many unscrupulous merchants find business opportunities and start to sell seconds at best quality prices. They use inferior products to replace high-quality products to profit from it. Let's see how to avoid pitfalls when purchasing safety capacitors.
Safety capacitors are divided into X capacitors and Y capacitors. It is a very common electronic component in the power supply. The X capacitor is responsible for removing the differential mode interference in the power supply. The Y capacitor is responsible for removing common mode interference and is generally used in power circuits to achieve bypass, decoupling, filtering and energy storage. Appropriate safety capacitors are very important, and will determine the length of use and the stability of performance of electronic products.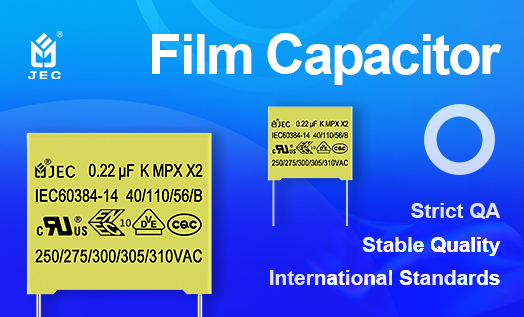 1. Safety Certification
If you want to know whether the safety capacitor is good or not, check whether there is a safety certification logo on the printing of the capacitor. If there is no safety certification logo, it is not a real safety capacitor. Strict regulations in the industry: Safety capacitors must pass safety certification before they can be sold.
2. Model Selection
There are many types of safety capacitors, and each type has a suitable application, which must be paid attention to. Unscrupulous merchants just want to make quick money, regardless of whether the model is suitable or not. You can consult relevant practitioners to choose the correct model.
3. Production Qualification
Some unscrupulous merchants are good when they show you safety capacitors, the quality of the model is no problem, and the samples given to you are also good, but they are doped with inferior capacitors when they are shipped, which leads to waste of time, effort and cost. Faced with such a situation, when purchasing safety capacitors, you should shop around and choose a capacitor manufacturer with a long business history, good reputation, production qualifications, and after-sales service.
JYH HSU(JEC) Electronics Ltd (or Dongguan Zhixu Electronic Co., Ltd.) is one of largest manufacturers in China in terms of yearly safety capacitor (X2, Y1, Y2) production. Our factories are ISO 9000 and ISO 14000 certified. If you're looking for electronic components, welcome to visit our official website: https://www.jeccapacitor.com